Englands Bordtennistillverkare T3 Ping Pong finalist vid ISPO 2016 Brand New Awards!
Det unika runda bordet för trippelpingis från T3 lönar sig  
ISPO, grundades 2000 som världens största händelse för sporthandeln. Nu går innovativa T3 Ping Pong till final. Från deras kontor i Farringdon London kommer tre-mannalags runt bordtennis, T3 har kämpat hårt för att denna nya sport ska komma på marknaden.
Digi Berry, grundare T3, säger "Vi är glada och ödmjuka över denna utmärkelse, stolta över att domarna kunde se det roliga och möjligheterna med vad våra bord kan erbjuda och ödmjuka av det faktum att vi vet hur svårt det är att få en produkt på marknaden. En utmärkelse som denna kommer verkligen att hjälpa oss att etablera oss i en global industri som sträcker sig utöver bordtennis. Stort tack till ISPO och det engagerade teamet på T3! München, här kommer vi! ".
http://brandnew.ispo.com/en/Winners-Finalists/ISPO-MUNICH-2016/Finalisten/
Vad är T3?
T3 Ping Pong är 3 eller 6-manna bordtennis. Det följer liknande regler som traditionell bordtennis och spelas på ett runt bord med tre eller sex spelare i varje lag. Den distinkta runda formen och specialkonstruerade nät är grunden för ett spel som erbjuder ett större spelutbud och ökar utrymmet för spektakulära bollar.
Alla T3-bord är konstruerade och tillverkade i England. Detta inkluderar en rad inomhus- och utomhusbord som täcker behoven hos både barn och vuxna. Detta är kanske det mest betydande bidrag till utvecklingen av bordtennis sedan det var ett sällskapsspel efter middagen på 1880-talet. Det kan förklara varför T3 redan har haft exportorder från Schweiz, USA, Sverige och Australien.
ARTIKEL I TIDNINGEN PINGIS NR 1, 2015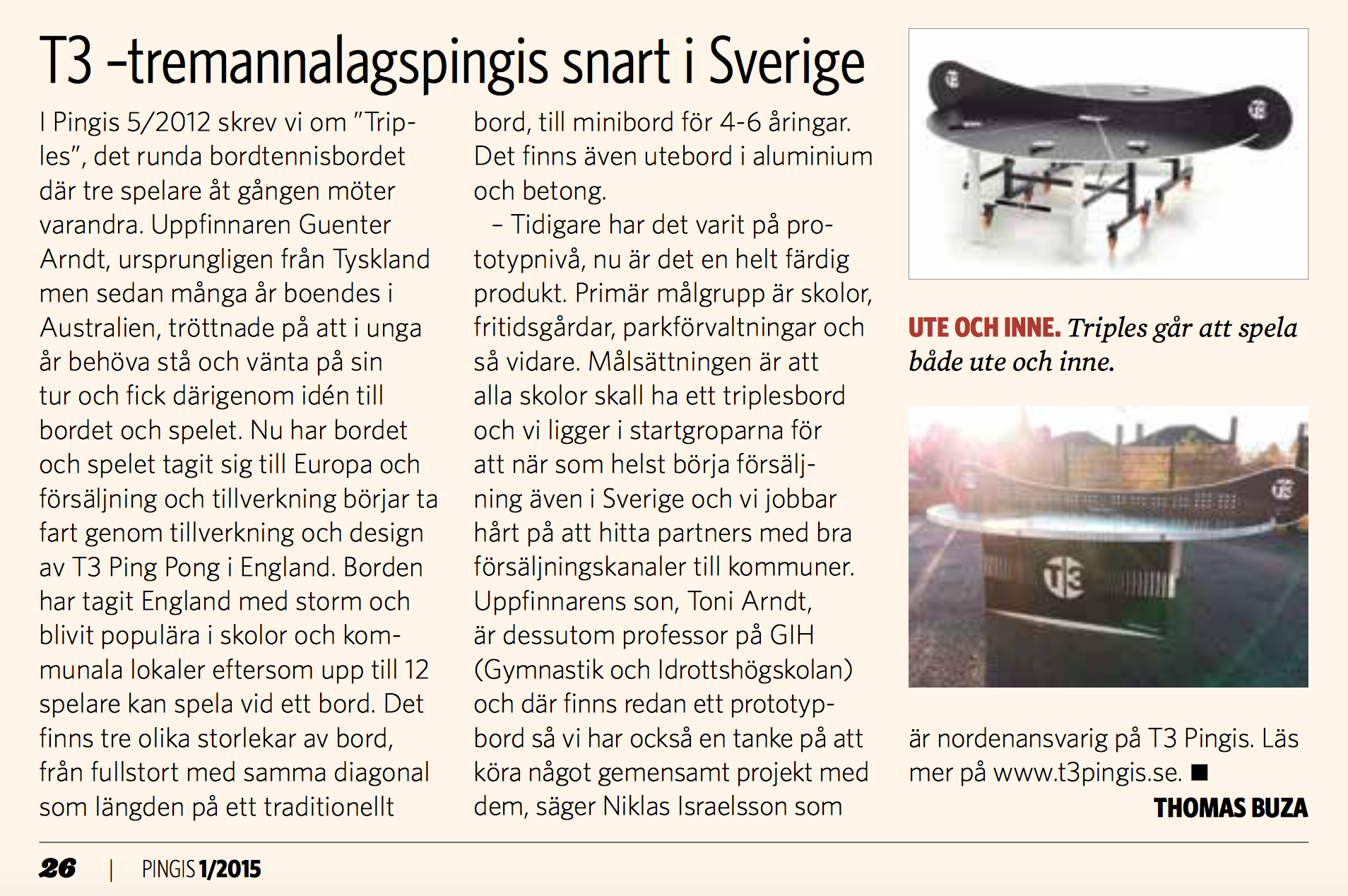 För att köpa T3 pingisbord, gå till t3pingis.tictail.com eller kontakta niklas@t3pingis.se
Köp ett till er och skänk samtidigt ett till en skola i närheten, många skolor står på kö att få hjälp med ett bord.
Vi är även oberoende återförsäljare av Forever Living Products.
Forever Living Products är ett livsstilsföretag med fantastiska produkter som även passar bra med pingis, ex massagecreme, vitaminer, tvål, schampoo, Aloe Vera mm. Totalt ca 200 artiklar där de flesta är baserade på ekologiskt odlad Aloe Vera. Det finns även möjlighet att jobba med Forever Living Products.
Vill du också må bra och se vad Forever kan erbjuda dig?
Kontakta oss för mer information.
T3 joins forces with Brixton Soup Kitchen
T3 Ping Pong joins forces with ITV's Surprise Surprise!
ITV's hit television show Surprise Surprise joined forces with T3 ping pong this week to celebrate the incredible work of Solomon Smith, founder of Brixton Soup Kitchen, on their live TV show.
The fantastic Solomon Smith a lifelong Brixtonian who founded a soup kitchen in January 2013 having been moved by the plight of the local homeless community struggling through harsh winter months. The kitchen provides much needed space for the homeless or those in desperate need and aims to supply food, drink and companionship on a weekly basis.
Currently, Solomon and his partner Mahamed Hashi, both with 13 years' experience of working with SEN young people, plan to evolve the kitchen into a recognised support centre for the whole community having obtained additional space and facilities. This was where we stepped in! – With the donation of one of our T3 Tournament tables. – The perfect addition to the growing community centre!
Keep up the good work guys and we hope you and all the people you continue to support enjoy your brand new table!
Check out the footage from the show here on our Youtube page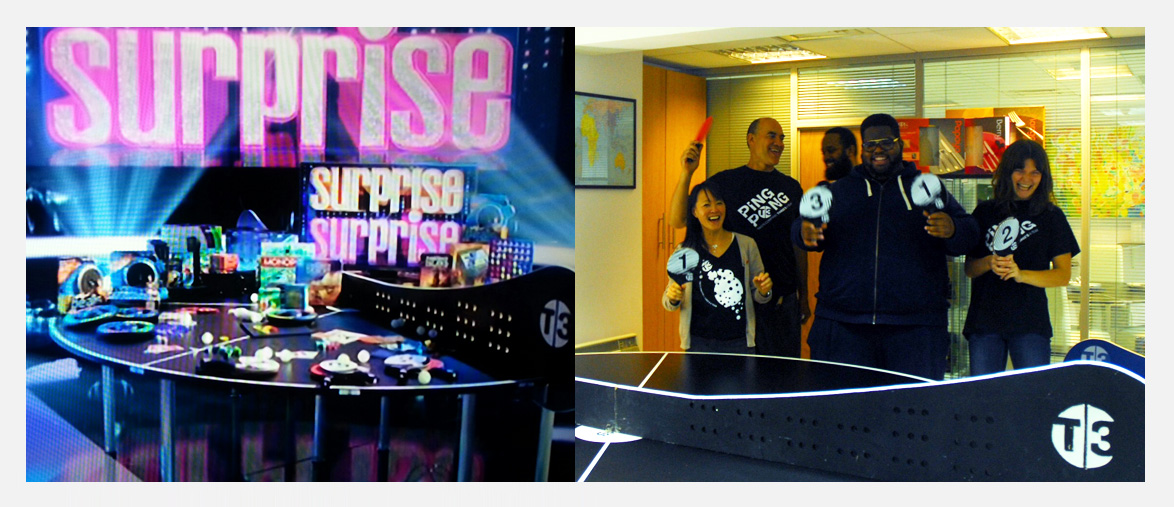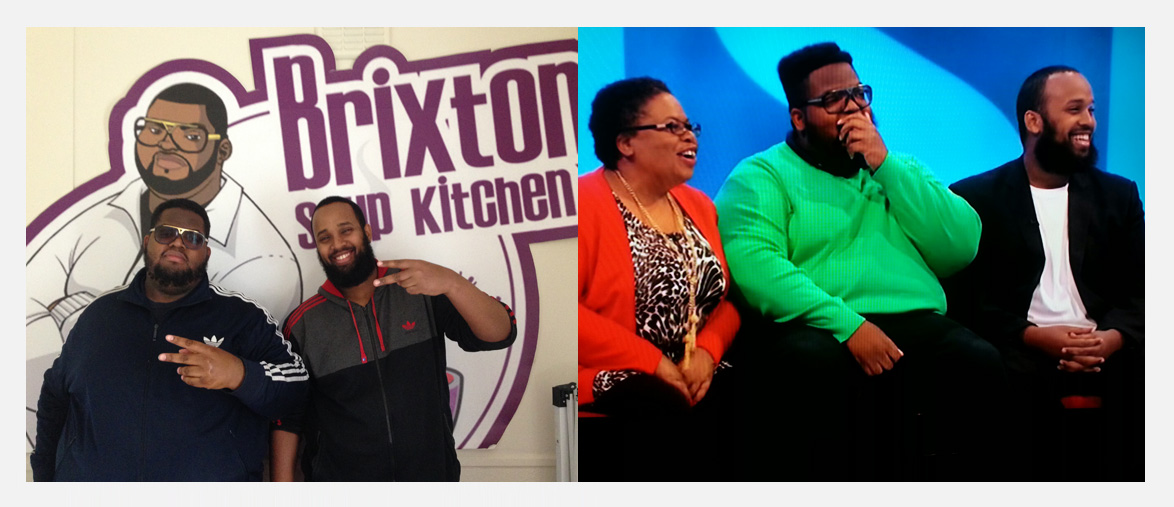 T3 Pingis globalt
T3s första export till Schweiz
T3 har nu för första gången exporterats till Schweiz! Detta är en milsten för T3 då det kommer underlätta tillverkningen i England. Senast var det 27 år sedan pingisbord tillverkades i England, sedan stängde Dunlop sin fabrik och flyttade tillverkningen till Tyskland.
T3 live on Australian Radio Show
Not the Footy Show
T3 founder, Digi Foo kune speaks to Australian radio show, 'Not the Footy Show' about all things T3 and the launch of the T3 All weather table at Hampstead Heath, London.
Experience T3 this August
Active in the Park!
Experience the T3 table for yourself at 'Active in the Park!' A fun and exciting sporting event held in Shephalbury Park in Stevenage. The free event will play host to a number of summer activities, encouraging all ages to get active and try something new! – Including the T3 table!
Active in the Park takes place on Wednesday 27th August – 11am till 3pm, so get yourself down there, pick up a bat and be among the first to experience the 3-a-side Ping Pong phenomenon that's sweeping the nation!
Brand New T3 Video
The Launch of the T3 All Weather Table
A World's First:
T3 'All Weather' Ping Pong Table Installed at Hampstead Heath
The world's first T3 All weather table proved to be a 3-a-side smash hit at Hampstead Heath yesterday. The table took prime position in the ping pong zone at the Give it a Go Festival, where the table is now available for the public to use indefinitely. To kick start the afternoon, the Mayor of Camden cut the ribbon to reveal the table to the crowds, which promptly proceeded with a 3-a-side game between the Mayor of Camden, T3's Founder Digi Berry and six Great British table tennis champions.
Hewley Griffith, T3's official coach and former Guyanese number one said
"The future is bright for T3, this game allows up to twelve players to play at a time, what better way to get people active and experience a new take on a classic."
Designed and manufactured in the UK, the whole range of T3 table tennis tables were available for guests to experience, from the T3 SuperMini to the T3 Tournament and what a success they were, with crowds gathering around each table in a bid to test the fun, fast revolutionary game.
T3 Founder Digi Berry said:
'I am delighted that the City of London has commissioned the T3 All weather to be here at Hampstead Heath in London, free for the public to experience this fantastically addictive game. '
T3's official coach: Hewley Griffith
Introducing Hewley Griffith, teaching the T3 team a thing or two!
Introducing Hewley Griffith, former Guyanese no.1 and international table tennis player and now T3's official coach. With Hewley boasting an impressive background of table tennis success, we are very happy to have him on board, guiding us through our T3 ping pong skills.
Hewley's love for table tennis began in Guyana at the YMCA club from the age of nine. The club had six table tennis tables; each table represented a level of play, one being for beginners and six for the top national players. It was whilst watching the top players on the sixth table that Hewley knew that's where he wanted to be. The rest is history, training five to six times a week to work his way to the top and that's exactly what he did.
Within his first two years of competing at junior level, Hewley won the national under 13's championships, which led to him being selected for the national junior squad. Competing and training regularly, often at senior level, Hewley began to travel internationally resulting in the transition to the senior squad and proving himself greatly in the men's singles category, winning multiple Caribbean championship titles.
It was after the Caribbean tournaments in August 2011, that Hewley decided it was time to take his bat in another direction and start giving back to the sport. He returned to the YMCA in Guyana, but this time as a coach with huge success, coaching at three different clubs, one pupil reaching number one in the country and winning eleven national championships.
Today Hewley coaches in the UK on five different table tennis programmes, including a number of one to ones with some famous faces here in London. At T3 we are honoured to have him as our coach and the program is astonishing. Thanks Hewley!
Look out for 'Hewley's T3 Tips'. Check out our official T3 Tips blog here and follow us on Facebook and Twitter.
T3's Rising Star
Introducing Shae Thakker…
It seems that ten year old Shae Thakker is the one to watch when it comes to table tennis and it just so happens that we've managed to win the young man over with T3 3-a-side ping pong, securing him firmly on our team. It was at the World Ping Pong championships at Alexander Palace, London where Shae first experienced a game of T3.
'T3 ping pong is so much fun and I loved playing with more than two players at a time. This made the game a lot more challenging and I really had to concentrate on where the ball was heading!'
'T3 ping pong is so much fun and I loved playing with more than two players at a time. This made the game a lot more challenging and I really had to concentrate on where the ball was heading!'
Shae competes often, playing table tennis for the Chalfont and District senior table tennis league, as well as the Chiltern Cadets and with Ken Philips in Cippenham. He is currently ranked number 8 for England in the under 11's, Shae's dream and aim is to achieve a no.1 ranking in the UK and to be able to represent us in the common wealth games and Olympics.
Last Tuesday Shae paid us a visit at the T3 offices, to show off his new official T3 kit and play a few games alongside the T3 coach Hewley Griffith – Former Guyanese no.1 and international table tennis player. I think it was fair to say he put the T3 staff to shame with his impressive 3-a-side skills. We wish our T3 mascot all the best and look forward to seeing him wearing his T3 kit this weekend at the Butterfly Individual Championships in Doncaster. – We'll be rooting for you Shae!
ChildHope Charity and T3 Ping Pong team up for a fundraising evening
London's first ever 3-a-side ping pong tournament!
Wednesday 19th March 2014 saw London's first ever triples ping pong tournament! T3 and the children's charity ChildHope, who support street and working children in some of the most dangerous urban environments in the world, joined forces to host an exciting fundraising evening for all at Lazybones in Farringdon. The venue created the ideal environment for our competitive guests and players to get stuck in, with music pumping, cocktails flowing and even time for some lip-smackingly good ping pong food.
As the tournament got under way the excitement mounted and after twenty four games, the four best teams were narrowed down to the semi-finals, crowning 'Ringers Are Go!' the winners of the evening.
Multiple goodies and prizes were handed out throughout the night thanks to donations from ChildHope supporters; Arthur Price, USAirtours, T3 Ping Pong and Davies Wine Bars, promoting fantastic work ChildHope delivers around the world. All proceed raised that night went to the charity so a big thank you too to everyone who came.
ChildHope's executive director, Jill Healey commented on the event 'I just want to say a huge thanks from ChildHope to Wonderberry for organising the T3 event – what a great way to have fun, meet new ChildHope supporters and raise money at the same time!'
Digi Foo-kune, T3 founder added 'The ping pong playing went down a storm, with at least 50% novice players and many others who hadn't picked up a bat since they were kids! But it didn't matter on the T3 table it was laughter and excitement all the way. And with a few drinks along the way it was amazing how good people got in a night! Everyone's asking when the next one will be.'
Highgate Primary School test the T3 SuperMini
The kids get around the table as the T3 SuperMini is launched at Highgate Primary School
Ping pong brand T3 launched their newest design, the T3 SuperMini for kids, at Highgate Primary School this week. Never played before in the world, this new design which has been added to the T3 range is a compact sized ping pong table, especially designed for children aged 3-6.
T3 pinged into the UK late last year, and is going from strength to strength. Described as 'the future of ping pong', with 3 national TV appearances this year and being featured at the World championship of Ping Pong at Alexandra Palace, the brand are hoping to spread the sociable and inclusive game to schools.
Three-a-side compete in two teams around a circular table. The table's unusual design and specially constructed nets are the foundations of a game which can be fast and fierce. T3 ping pong allows players a far greater range of shot directions, exciting angles and longer spectacular rallies. For schools, it is the ultimate classroom accessory, doubling up as a work desk, or constructed of long lasting all-weather concrete in a playground.
And the kids at Highgate Primary school loved it! Between the laughter and excitement of 6 year olds, the T3 table captured their attention and they were keen to play all afternoon. As more of them were able to play at one time, their team spirit was maximised and the new generation of ping pong began!
The T3 SuperMini is now available to buy from www.t3pingpong.com. This sporting innovation is a must have for the new year.
Contact sales@t3pingpong.com for more information, or call 02074049594.
Local Press
The Clerkenwell Post
'If you're still in search of a new hobby or exercise regime for 2014, here's some EC1 inspiration… BBC presenter Andrew Marr said recently that drawing was good for the soul. So why not sign up to the new life drawing class at The Goldsmiths' Centre on the last Tuesday of each month? (www.londondrawing.com) If you'd rather latch onto an exercise trend, TenPilates in Hatton Garden suggests that HiiT (High-Intensity Intensive Training) is the endurance test du jour in 2014. (www.tenpilates.com) And if you just want to try something completely different, T3 Triples PingPong is the Wiff Waff you know and love – but with six players on a circular table. Invest in this quirky game, which was designed by a company in Saffron Hill, or find out where to play in EC1.'
Lunchtime at T3 Offices
Jean-Christophe Novelli takes his position at the T3 table one lunchtime
Game changing T3 is a smash hit at WCPP
T3 features in BBC Breakfast Show with Mike Bushell
 T3 Ping Pong at WCPP – A short film
T3 Table at The Ping Pong World Championships at Alexandra Palace in London January 2014
With over 100 people trying their hand at Triples over the weekend in the beautiful Palm Court, the T3 table added the interactive factor to the championship. Both the professionals and spectators alike gave it a go and everyone loved the social aspect of the game!
Alex Murdoch said " Played on the table with six of us – really good clever and different – chance for players of any level."
The weekend was shown Live on Sky Sports, with 64 of the world's best taking part in a two-day tournament with a substantial prize fund.
After 2 days of intense games, RUSSIA'S MAXIM SHMYREV completed a magical hat-trick of wins as he captured the 2014 PartyPoker.net World Championship of Ping Pong with a comprehensive three sets to nil win over Ilija Lupulesku of the USA.
On the Friday before the Championship we were lucky enough to meet some of the Champions and let them have an exclusive game on the T3 Table. Ashley Stokes, Maxim Shmyrev, Adoni Maropis the Hollywood actor and Ding Yi were among the pros, and their skills brought the game to life in a way we had never witnessed before – which was luckily recorded by the BBC feature from Mike Bushell and team! (see below)
Thanks to Matchroom and Alexandra Palace for all their help in letting us be a part of this wonderful weekend of Wiff Waff!
til next year…
BT Sport experience the T3 table
T3 Live on BT Sport!
http://www.youtube.com/watch?v=nG9Qk6w6r_U
T3 at The Table Tennis World Championships
T3 Ping Pong set to make a special appearance at The Ping Pong World Championships at Alexandra Palace 4th and 5th January 2014
Bouncing straight into the New Year, Triples Ping Pong brand T3 announced today that their revolutionary circular table ping pong table will be exhibited at the annual World Championship of Ping Pong, held at Alexandra Palace in January 2014.
The triples (3-a-side) version of ping pong, up until now, only played in Australia, was invented in New Zealand in 1979; six players compete in two teams of three around a circular table. Its unusual design and specially constructed nets are the foundations of a game which can be fast and fierce. Triples ping pong allows players a far greater range of shot directions, exciting angles and longer spectacular rallies. The table can even accommodate 12 players if required (3-a-side with one ball in play or 6-a-side with two different coloured balls in play).
Ally Pally will become host to the world's 64 top Ping Pong players for a two-day tournament, as they battle it out live on Sky Sports for the $100000 prize fund. Using traditional sandpaper rackets, the World Championship of Ping Pong is a throwback to the early days of table tennis and aims to catapult ping pong into the big league and onto the international television stage. Hailed as "the future of ping pong", T3 Triples Ping Pong will be there to provide an interactive element to the day, as members of the audience will have the chance to try out this sporting innovation for themselves.
For tickets and more information go to www.worldchampionshipofpingpong.net
T3 proves to be a smash hit!
T3 Ping Pong – Two's company, Three's a team
 UK Launch of T3 3-a-side Ping Pong is a smash hit
On Sunday 8th September table tennis brand T3 unveiled their revolutionary circular triples ping pong table for the first time in the UK at the annual Give it a Go Festival on Parliament Hill in Hampstead Heath, London.
Despite the tumultuous September weather, T3 Triples Ping Pong proved to be a showstopper. Crowds gathered for a chance to be the first to play the 3-a-side ping pong game. Pro ping-pongers and novices alike took each other on in teams of three, as the fast and fierce new game caught the attention of every passer-by.
Steve Lamb, 22, said: "This is such an addictive game; it's got to be the future for Ping Pong."
The 6-a-side version of the game "Chaos Theory" was also played and did exactly what it says on the tin – and balls were bouncing all over the place!
T3 Founder Digi Foo-kune said: "It was fantastic to see everyone without exception embrace the game… and I mean everyone! From little kids who could only just reach the table wanting to play with their parents to two 84 year old ex-table tennis fans who were thrilled with the new innovation. We knew that the new generation of social pingers love it, but to see non players, kids and veterans of the sport get involved was a big plus for me!"
The T3 Triples Ping Pong table is set to capture the social ping pong market's imagination, and will be coming to a club near you very soon!
The T3 table, manufactured and designed in the UK, comes in many shapes and sizes, to suit your ping pong needs. From team building in the office, to parties and events, they've thought of everything. The original T3 is black and white in design, constructed of state-of-the -art high density fibreboard, engineered plywood and steel with a smooth scratch resistant painted surface to guarantee the perfect bounce. Portable and practical, the table can be packed away for easy storage, and prices start from £950.
The net itself is cleverly designed to enhance the triples game. Raised at the sides with a sloping gradient, the net increases the sense of competition and adds to the challenge. Constructed of wood with a unique pattern of holes to make it transparent, the net smoothly slots into the centre of the table. Whether you want to play at your local sports club, at school, at university, at the pub, or outside in the park, T3 has many designs to fit every taste. And if you can't find exactly what you're looking for, or want your own customised triples table with a Perspex up lit neon net – click here to find out more.
Give it a Go! Festival 2013
T3 3-a-side Ping Pong at Parliament Hill Fields
3-a-side ping pong brand, T3, today announced that the unveiling of their revolutionary circular table would take place on 8 September 2013 at Camden Council's annual fitness Give It A Go Festival, on Parliament Hill Fields, Hampstead Heath.
The triples (3-a-side) version of ping pong, was invented in New Zealand in 1979; six players compete in two teams of three around a specially shaped table. Its unusual circular design and specially constructed nets are the foundations of a game which is fast and fun. Triples ping pong offers players a far greater range of shot directions and lengths than the conventional game with increased scope for spectacular rallies. The table can even accommodate 12 players (three-a-side with one ball in play, or six-a-side with two different coloured balls in play).
Hot on the heels of the current ping pong revival across the UK, particularly in bars and clubs, T3 expects triples to capture the imaginations of existing enthusiasts and novices alike. The game is suitable for all ages, all abilities and T3 tables are also suitable for players in wheelchairs. The table is the same length as in standard ping pong, is foldable and portable since the legs are mounted on wheels.
Camden Council's Give It A Go festival, which was a huge success in 2012, aims to inspire people to take up new sports and incorporate regular fitness into their everyday lives by providing live coaching and opportunities to 'give it a go' on the day. Last year, over 10,000 people turned out to take part, and this year, a similar number is expected. Visitors will have the opportunity to play triples for the first time and find out more about where to play the game in future. There'll be a 'winners stay on' tournament mixed up with games, tricks and coaching – and goody bags all round!
Digi Foo-kune, Managing Director of T3, commented: "It's great to see the revival of ping pong which was a household game in the 1970s and which a new generation is now discovering for the first time. We feel that the time is right for something fresh, innovative and fun like triples. We're excited about the table and the potential there is to really revolutionise
the game."
Original source: Hannah James, Wonderberry (August 8, 2013)
FREE TRIAL SESSION