Kom förbi London och prova T3 utomhus
PROVA GRATIS IDAG!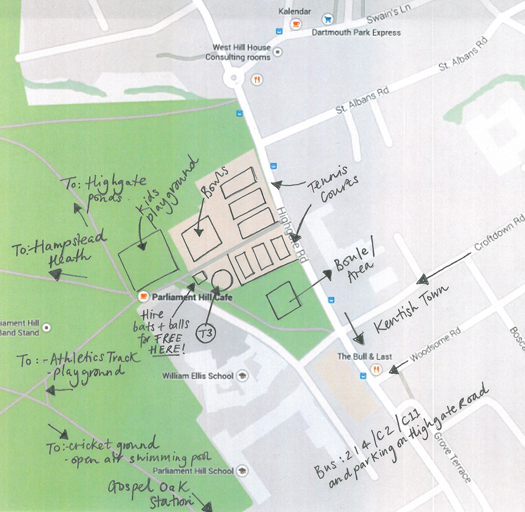 Prova på trippelpingis om du är i London och har vägarna förbi Hampstead Heath. Där finns ett T3 All weather cementbord.
Du hittar T3 All weather-bordet i närheten av Heath entrén närmast tennisbanorna vid Highgate Road, gå sedan en kort promenad till tennisbanornas bokningstuga där bordet är uppställt permanent. Racket och bollar kan lånas mot £10 deposition.
Wednesday 27th August 2014
Active in the Park!
Experience the T3 table for yourself at 'Active in the Park!' A fun and exciting sporting event held in Shephalbury Park in Stevenage. The free event will play host to a number of summer activities, encouraging all ages to get active and try something new! – Including the T3 table!
Active in the Park takes place on Wednesday 27th August – 11am till 3pm, so get yourself down there, pick up a bat and be among the first to experience the 3-a-side Ping Pong phenomenon that's sweeping the nation!
SUNDAY 20TH JULY 1PM – 5 PM
GIVE IT A GO FESTIVAL!
Sunday 20th July, 1pm – 5pm
Parliament Hill ,T3 ping pong zone, next to tennis court booking hut, Highgate Road, London NW5 1AD
Join us on the day to experience 3-a-side ping pong for the first time on the new all weather concrete table and to find out more about this amazing game that is about to go global!
T3 Table featured on ITV Evening News
National Table Tennis Day – 17th July 2014
It's National Table Tennis Day on Thursday 17th July! To celebrate we're inviting YOU to come to our offices in Farringdon for a 3-a-side knock about! 12-3pm. Contact kath@t3pingpong.com to arrange your slot on the table.
And what a success it was! – The sun shone and players had the experience of playing with national table tennis stars Hewley Griffith and Darius Knight! We were even featured on ITV Evening News! #leaduptothelaunch
T3 and ChildHope Fundraiser!
19th March 2014 – Lazybones Farringdon
Join us for a night of fundraising, free triples ping pong all night, free entry to a knock out tournament, free glass of prosecco on arrival, music, beer pong plus goody bags and fun prizes throughout!
On behalf of ChildHope, an international children's charity supporting street and working children.
WCPP 2014
To be in with a chance of winning tickets to the World Championship of Ping Pong, please contact: Hannah@t3pingpong.com
WCPP 2014
T3 Ping Pong set to make a special appearance at the Ping Pong World Championships at Alexandra Palace 4th and 5th January 2014
T3 announced today that their revolutionary circular table ping pong table will be exhibited at the annual World Championship of Ping Pong, held at Alexandra Palace in January 2014! Ally Pally will become host to the world's 64 top Ping Pong players for a two-day tournament, as they battle it out live on Sky Sports for the $100000 prize fund. Using traditional sandpaper rackets, the World Championship of Ping Pong is a throwback to the early days of table tennis and aims to catapult ping pong into the big league and onto the international television stage.
And this year, T3 will be joining the best in ping pong, with an exhibition table, where top players and ticket holders will be able to try out the new sport!
Get your tickets here for this exciting event: www.worldchampionshipofpingpong.net
Give it A Go! 2013
T3 Ping Pong at Parliament Hill Fields
Three a side ping pong brand, T3, today announced that the unveiling of their revolutionary circular table would take place on 8 September 2013 at Camden Council's annual fitness Give It A Go Festival, on Parliament Hill Fields, Hampstead Heath.
The triples (3-a-side) version of ping pong, was invented in New Zealand in 1979; six players compete in two teams of three around a specially shaped table. Its unusual circular design and specially constructed nets are the foundations of a game which is fast and fun. Triples ping pong offers players a far greater range of shot directions and lengths than the conventional game with increased scope for spectacular rallies. The table can even accommodate 12 players (three-a-side with one ball in play, or six-a-side with two different coloured balls in play).
Hot on the heels of the current ping pong revival across the UK, particularly in bars and clubs, T3 expects triples to capture the imaginations of existing enthusiasts and novices alike. The game is suitable for all ages, all abilities and T3 tables are also suitable for players in wheelchairs. The table is the same length as in standard ping pong, is foldable and portable since the legs are mounted on wheels.
Camden Council's Give It A Go festival, which was a huge success in 2012, aims to inspire people to take up new sports and incorporate regular fitness into their everyday lives by providing live coaching and opportunities to 'give it a go' on the day. Last year, over 10,000 people turned out to take part, and this year, a similar number is expected. Visitors will have the opportunity to play triples for the first time and find out more about where to play the game in future. There'll be a 'winners stay on' tournament mixed up with games, tricks and coaching – and goody bags all round!
Digi Foo-kune, Managing Director of T3, commented: "It's great to see the revival of ping pong which was a household game in the 1970s and which a new generation is now discovering for the first time. We feel that the time is right for something fresh, innovative and fun like triples. We're excited about the table and the potential there is to really revolutionise
the game."
Original source: Hannah James, Wonderberry (August 8, 2013)
FREE TRIAL SESSION